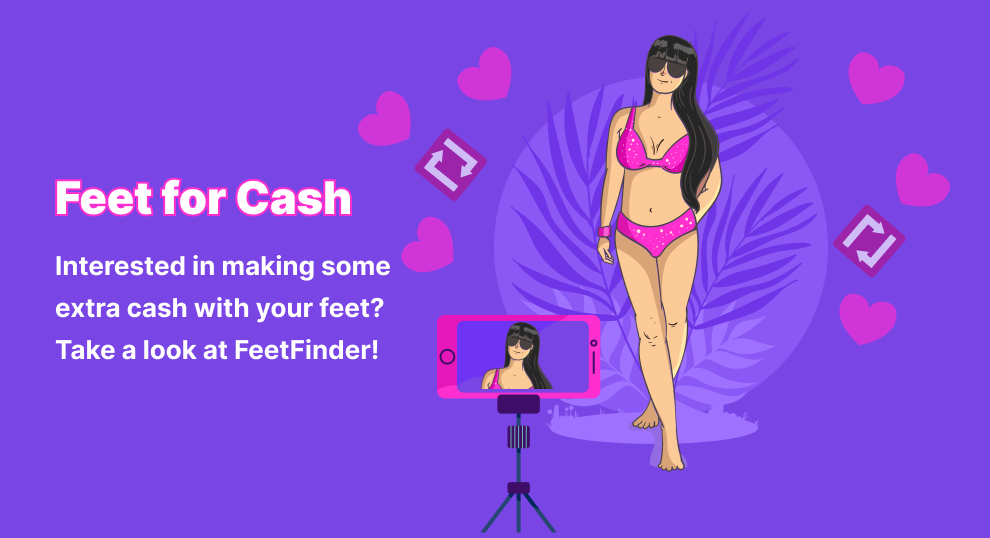 It isn't easy to begin, even though it can be an enjoyable way to earn money while sharing your passion.
You need to have confidence and know how to pose well to take good photos of your feet!
Here to assist you! You'll learn to take amazing feet pics and others will love them. 
Learn about new trends, and improve your photography skills by taking sexy feet pics.
Get ready to take some incredible photos of your feet!
FeetFinder is a great place to sell feet pics, and you can use it to make your work even better!
What to Do First to Take Feet Pics?
It is important to have good lighting, have your feet look great, and position them in a way that flatters your legs.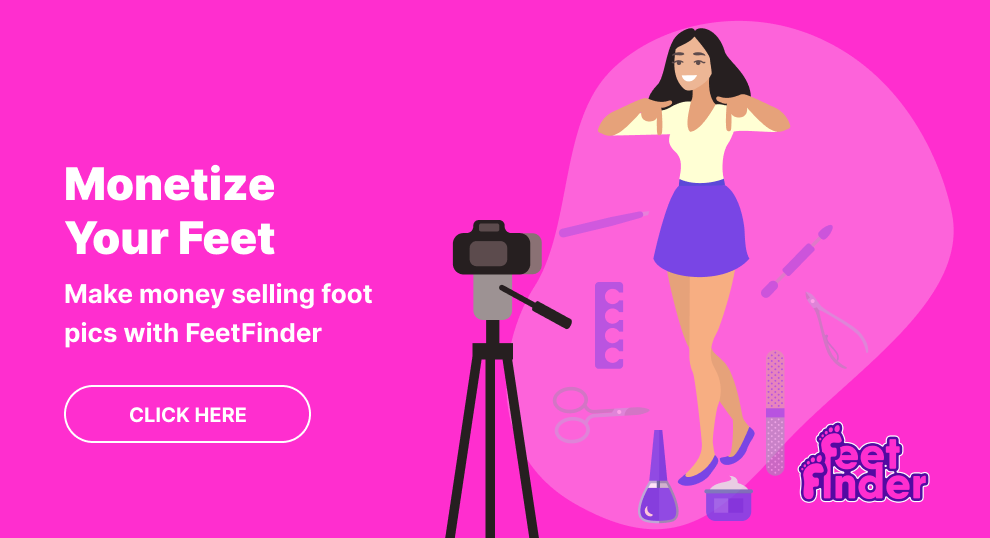 You will cover all the details in this blog that you need, so you can begin taking good feet pics.
To learn how to take good feet pics, our first advice is that you should always maintain your feet. 
When you want to take a good feet pic, you must keep your nails neatly trimmed.
It's nice to have a pedicure, but not required. Besides, people may like their feet to be less "fancy". Some prefer hairy toes. 
Nicer feet usually get more notice.
Take pictures from different angles. Experiment with light and the background.
Maintaining Your Feet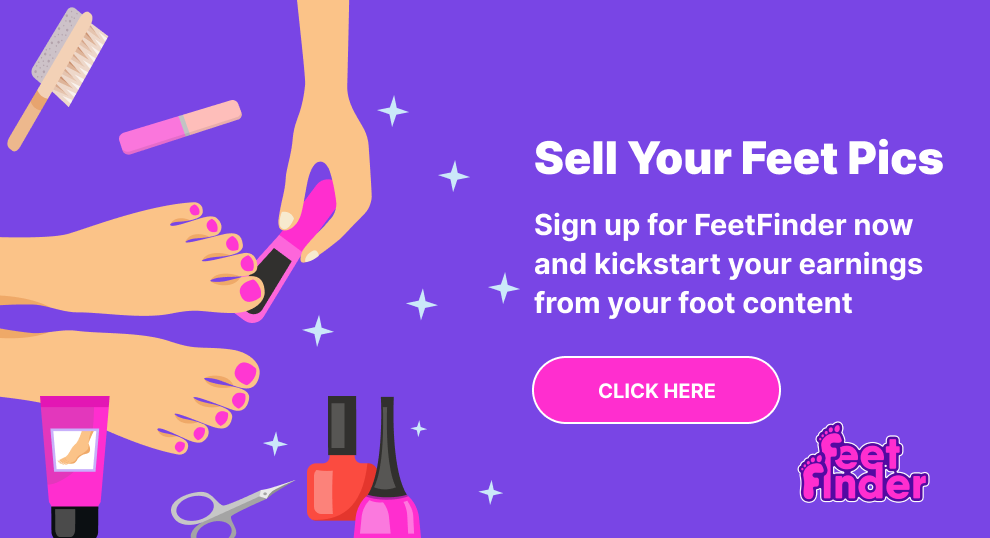 Like I said above, a professional pedicure may not be necessary, but ensuring your feet always look great is essential. Attention to detail:
Smoothed & trimmed nails


Be gentle when pushing back your cuticles


Polish (Optional)


It is important to exfoliate the sole of your feet (especially the heel).


There are no hairs on your toes.



Feet & lower legs are shaved and moisturized.
You can follow FeetFinder guidelines, but if you have a niche in calluses and rough feet, do it! 
Stand out among the rest of your competitors can often be lucrative on FeetFinder.
Next, explore some budget-friendly tips designed to make your journey of taking sexy feet pics even more splendid. Incorporate these guidelines, and you might be able to sell feet pics and make millions.
A Do-It-Yourself Pedicure Guide to Take a Good Feet Pics
You can start saving money on pedicures by performing them at home. It will take you about half an hour and a few necessary things.
Large bowl, hot water (optional bath salts), dry towels


Nail polish remover & cotton balls


Clippers, file, and buffer for nails


Cuticle stick (Get cuticle oil if they're dry)


Foot file or pumice


Alcohol and cream for feet


Toe separators (paper towels work too)



Base coat, color, top coat.
Let's start with a simple pedicure now that your things are ready! Taking sexy feet pics is not a hard job, just do it in simple 7 steps.
Get Summer-Ready Feet: Effortless DIY Pedicure Steps!
Step 1. Remove old polish.
Step 2. Soak feet in hot water with bath salts for 10-15 minutes to soften cuticles.
Step 3. Dry feet cut nails straight across and file edges smoothly.
Step 4. Massage cuticle oil and gently push back cuticles.
Step 5. Smooth soles and heels using a foot file or pumice stone; consider Salicylic acid foot cream for cracks.
Step 6. Rinse feet, apply regular foot cream, and cleanse nails with rubbing alcohol for better polish adhesion.
Step 7. Begin polishing! Apply a thin base coat, followed by two layers of color, and finish with a protective top coat. Allow appropriate drying time between coats (3-5 mins, 5 mins, and 10-13 mins).
How Can You Capture the Perfect Feet Pictures?
To take amazing sexy feet pics, you only require a little equipment. Here's all you need:
Camera: Opt for a point & shoot or a DSLR, or use your iPhone with its filters and options.


Soft Lighting: Natural light works wonders, highlighting intricate details. If not available, consider an affordable ring light from Amazon.


Photo Editing Software: Optional but useful. Explore inexpensive options like Canva or FaceTune for background removal, blurring, cropping, and resizing.


Hands-Free Snapping:

Holding the phone while shooting at certain angles is tough. Enlist a photographer friend or invest in a ring light bundle package like a ring light with an extendable tripod stand, phone holder, & remote shutter. Highly rated and user-friendly.
With these equipment, you're all set to click captivating feet pics effortlessly! 
Now, we move forward to learn how to take good feet pics.
Note – If being on camera isn't your cup of tea, paid sexting might be a viable option to explore. Capitalize on meaningful text interactions to make potential earnings. Join now FeetFinder!
How to Take Good Feet Pics?
While props aren't a must, they offer delightful photo variations. Avoid monotony by showcasing similar feet pics; here are some fun ideas to take a good feet pics:
Glamorous High Heels: Elevate your shots with fancy, strappy, and sparkly shoes for a touch of elegance.


Foot Jewelry: Ankle bracelets, toe rings, and more add a touch of charm. Explore Etsy for unique options and inspiration.


Henna Tattoos: Stand out from the crowd with stunning henna designs, adding an artistic flair to your photos.


Playful Props:

Experiment with other clothing pieces, like fishnet stockings or cheeky undies, to infuse fun and creativity.
Let your imagination run wild and create captivating feet pics that leave a lasting impression.
As you roam around town, keep an eye out for picturesque settings that can elevate your shots. 
Seek out below:
Beautiful Parks with Lush Green Grass


Vintage Buildings with Stunning Marble Floors


Serene Beaches with Soft Sand



Tranquil Shallow Rivers with Smooth Rocks
These scenic backdrops will add an enchanting touch to your photos, making them truly captivating!
What are the Best Editing Tips for Enhancing Feet Pics?
Once you've captured all your fabulous feet pics shots, it's time to enhance them with subtle editing.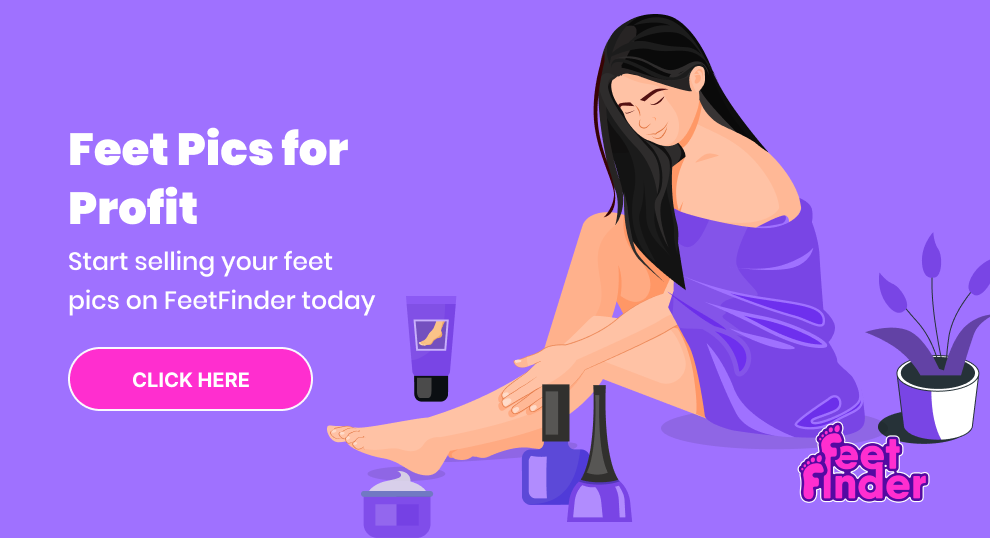 Remember, the goal is to highlight your natural beauty, not create a new look! Consider using editing software that allows you to:
Crop & Resize: Achieve better proportions or exclude unwanted elements from the frame.


Brighten & Color Adjust: Enhance colors and vibrancy for a captivating touch, utilizing preset filters if available.


Reduce Glare: Eliminate distracting reflections from windows or mirrors.


Blur:

Smooth out imperfections like bruises or texture irregularities. Be cautious not to overdo it, as excessive blurring can create an artificial appearance.
Mastering editing takes practice; be patient while you refine your skills. Some blurring attempts may yield plastic-like results, so find the right balance for a natural look. Remember, authenticity shines through!
To ensure accuracy, some models on FeetFinder took their own feet pics. Through trial and error, they honed their editing abilities to present genuine images showcasing beautiful feet pics. 
Take inspiration from their dedication and put your best foot forward!
Conclusion
Mastering the art of taking good feet pics requires creativity, attention to detail, and a touch of technical finesse. 
With the right equipment, lighting, and composition, you can beautifully capture the uniqueness and charm of your feet. 
Remember to experiment with angles, props, and backdrops to add variety and intrigue to your photos. 
Additionally, gentle editing can enhance the visual appeal without altering the authenticity of your shots. 
Whether you're a photography enthusiast or someone exploring the world of sexy feet pics, these tips will undoubtedly help you showcase the beauty of your feet with confidence and flair.