October 11, 2023

Amit biwaal

0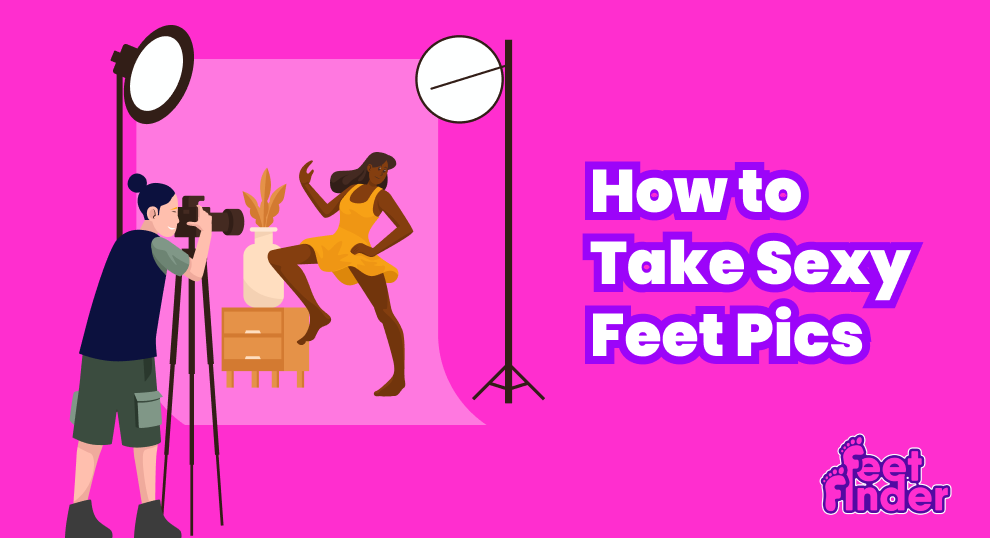 Feeling stuck because your feet photos just don't pop? No worries! This guide will show you how to take sexy feet pics that look absolutely professional. Soon, you'll be snapping and tweaking photos, whether you want to keep them, share them online, or even make some extra cash.
The feet market is expanding, and you, too, want to probe into it. So, find out FeetFinder tips and tricks you need to know, and then you can take sexy feet pics.
Once you get the basics down, you can use your top-notch photos for all sorts of things—social media, dating sites, making money, or just having fun.
How to take sexy feet pics | Best Tips & Tricks
Are you a budding photographer? Or do you want to become a foot model looking to turn your passion into profit? Maybe you're an aspiring foot model keen on mastering the craft. Or perhaps you're a mom who can't resist capturing those adorable little toes or someone just proud of a recent pedicure.
When it comes to how to take sexy feet pics that you can either sell online or add to an impressive photo portfolio, you'll need more than just a smartphone snapshot.
Don't worry; this guide offers extra tips to ensure your feet pics are market-ready. If you're serious about making a splash, you won't want to skip the steps ahead!
So you're gearing up to learn how to take sexy feet pics, huh? Before you even grab your camera, your feet need a little TLC to look their best. Here's how to get them in tip-top shape:
1. Give Your Feet Some Love
Don't skip foot care; it's crucial. Scrub and moisturize your feet regularly to keep them looking fresh. Got some rough spots or calluses? Take care of those too. If you can, treat yourself to a home foot spa kit that includes things like hydrating lotions, a foot file, and some quality nail polish.
Tips for Foot Care
Soften Up
Before diving into how to sell feet pics in America, start by soaking your feet. This softens the skin and is the perfect time to add in some Epsom salts or oils. These extras hydrate your skin, soften calluses, and make your feet look radiant.
Exfoliate
To make your feet truly shine, get rid of dead skin. After using your foot file, finish the job with an exfoliating glove, a pumice stone, or a special foot scrub. Even if your feet aren't particularly rough, a gentle weekly exfoliation keeps them looking great.
Mind Your Toenails
Don't forget those toenails! Keep them trimmed to a regular length and round off the corners with a file. This helps you avoid issues like ingrown toenails, which nobody wants to deal with.
By following these steps, you're setting the stage to learn how to take sexy feet pics that are truly frame-worthy!
2. Analyze Your Competition
Ready for the second step in how to take sexy feet pics that stand out? It's time to do some detective work and check out what your competition is up to!
Understanding what others are doing can really level up your foot photo game. Studying their successful backgrounds and poses allows you to gather inspiration for your shots.
How to Scout the Competition?
Find Those Angles
Notice any cool angles or poses that keep showing up in other people's feet photos? Consider giving those a try in your pics. You can check FeetFinder Reviews for help.
Spot Trending Backgrounds
Do your competitors often use a particular setting or backdrop? Maybe it's time to include something similar in your shots. While a plain white wall is fine, a grassy field or beach setting might add that extra oomph.
Mix It Up
Don't be afraid to experiment with different backdrops when figuring out how to take sexy feet pics. See what enhances your photos- an urban vibe or a natural setting.
By looking at what's already out there and weighing the pros and cons of selling feet pics, you can refine your approach and make your feet pics stand out.
3. Perfect Lighting for that Sexy Feet Pic
Ah, the magic of lighting! Let's dive into step three on how to take sexy feet pics that really shine. Trust me, good lighting can make or break your photo, so let's get this right.
Lighting Options to Consider
Natural Light is Your Friend
Aim for natural light whenever possible when you're learning how to take sexy feet pics. Shoot in shady spots to keep the lighting soft and even. Morning and late afternoon light offer a gentle, flattering glow that can make your photos look amazing.
Artificial Light
When natural light isn't an option, use lamps or overhead lights to brighten up your shots. If you're serious about this, investing in a good photography light kit can really up your game.
On-the-Go Lighting
If you can't always plan around natural light availability, portable, dimmable lights can be a lifesaver. They give you the freedom to shoot good photos at any time of day.
Ring Light
If you want to add some flair, try a ring light. They're great for both photos and videos. Some even come with a phone mount, tripod, and remote, making your shoot a breeze.
By choosing the right lighting, you're well on your way to mastering how to take sexy feet pics that you'll be proud to show off!
4. Background is Important
Your feet photos can be simple yet elegant or full-on stylized. Imagine your freshly pedicured feet resting on a clean, white towel with petals scattered around. Or perhaps your toes wiggle in the sand while sipping lemonade on your porch.
As you get more comfortable with how to take sexy feet pics, feel free to experiment with more upscale backdrops like marble or hardwood floors.
Tips for Choosing Your Stage
Keep it Simple
Busy backgrounds can be distracting, so aim for simplicity. While using props like flowers is fine, make sure they complement, not compete with, your setting.
Be Mindful of Your Surroundings
An eye-catching setting can be a double-edged sword. It can enhance your photo or steal the spotlight. For example, if you're on a bustling city street, try to focus on your feet rather than the chaos around you.
Spontaneity Works
Never stop scouting for the perfect locale. Sometimes, the best shots are spontaneous. See a beautiful scene while you're out and about? Go ahead, snap a few unplanned feet pics!
So there you have it! With the right backdrop, you're one step closer to mastering how to take sexy feet pics that are truly Insta-worthy.
5. Use Props
Tailoring your props to your intended viewers can make all the difference. Say you're shooting photos for a day spa focused on foot care; tossing a foot file into the frame would be a smart move.
Try These Props On for Size:
Candles for a warm glow
Fresh linens for a cozy touch
Foot jewelry for some bling
Petals or flowers for a natural vibe
Fishnet stockings for a bit of edginess
High heels to glam it up
Leaves for a seasonal feel
Simple stockings for elegance
Rocks for a rugged look
Temporary tattoos for a personal touch
Water for a refreshing angle
Even dirt or mud for a more rustic, down-to-earth feel!
6. Choose Best Poses
Let's tackle step six: finding the perfect pose is key when figuring out how to take sexy feet pics that really shine. A little bit of experimentation will help you discover your feet's best angles.
Instead of snapping pics up high, crouch or lie down for shots closer to ground level. It might initially feel awkward, but it's the secret to getting those killer angles.
Remember, variety is the spice of life, but knowing what works best for your foot shape and size is just as important. So, it's a good idea to mix it up while keeping an eye on what flatters your feet the most.
Popular Poses to Try:
The soles of your feet facing the camera.
A top-down cover shot.
Highlighting the arch of your foot.
Lying down with your feet up in the air.
Candid snaps for that natural look.
Dressing it up with some stylish heels.
Whatever you're aiming for—be it traditional poses or something more avant-garde—practicing different poses. It is an essential step in mastering how to take feet pics. So get down there and start snapping!
Conclusion
Do you want to make money selling pictures of your body? Snapping pics of your feet has gained much attention lately, with many people curious about how to take sexy feet pics for a portfolio, or even a side gig. You can build a versatile collection of foot photos by playing around with lights, backdrops, and some fun props.
If you're thinking about making some extra cash from your pics, we've got you covered. Our tips can guide you to the best websites, apps, and social platforms where you can show off your foot photography.
We hope this guide clears up any questions you have on how to take sexy feet pics.