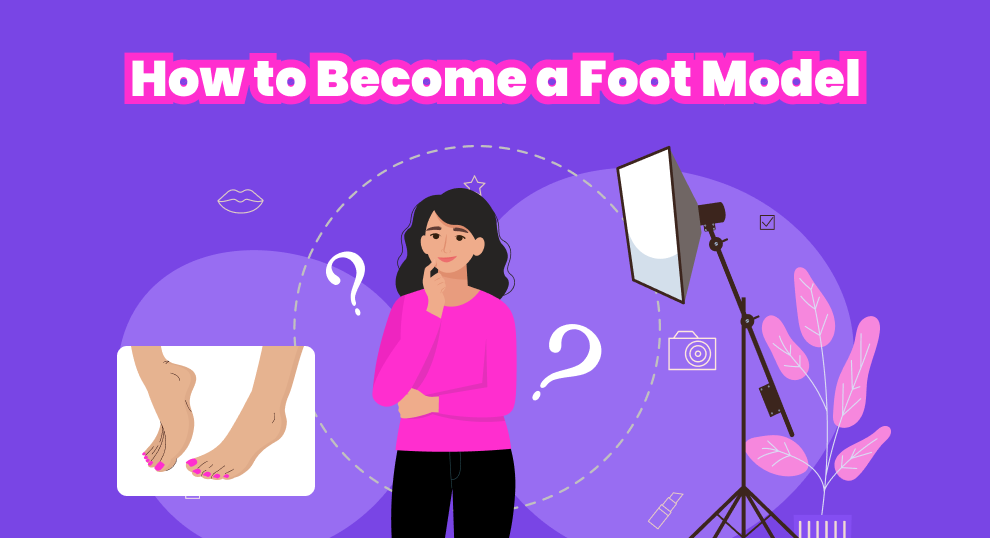 To land money-making modeling jobs in commercial or print, you need more than just attractive appendages. 
It is important to put in a lot more effort than you might think. 
The photo shoots can be a challenge, as well as the negotiations with agents. 
You may be infatuated with your own feet. But before you do, you might want to learn the basics about feet modeling.
Let's start now!
What is a Foot Model?
Foot models are people who model their feet for advertising. They can also be barefoot, footwear and so on. 
Foot models are often booked by shoe, skincare and jewelry companies. You can make a profitable career out of foot modeling if you enjoy pampering yourself and wearing high heels.
So, take good feet pics and start selling them.
How to Start Foot Modeling?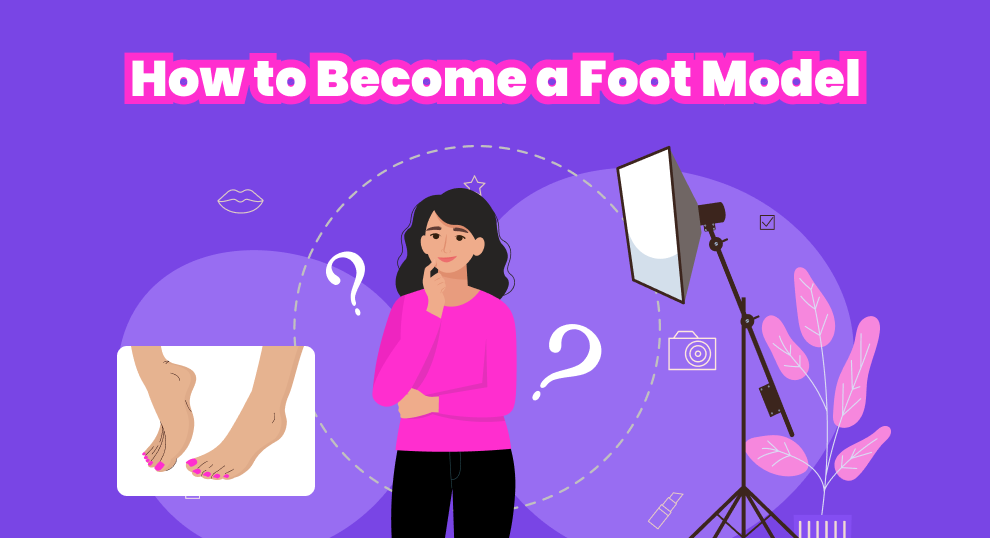 1. Do Your Research
All models have a deep understanding of the industry. Keep up with the latest trends and learn how to sell feet pics online and make millions in commercials. 
You can also follow publications and models that do work similar to what you want to do. Extend your toes and try different poses to express emotions and actions. 
When you are at a photo shoot you will be able to use your research on foot models as you know what the photographers look for.
2. Protect Your Feet
Make sure that your feet, legs and toes are worthy of being photographed. Models that work on their feet will go to any length to preserve and protect their income-generating assets. 
Most people wear shoes that are a couple of sizes too large to ensure maximum comfort. 
Although modeling demands that you stay in top physical condition, many foot models do not play soccer or other sports which could put their feet at risk.
Remember: moisturize your feet with quality products. You should know which products will make your feet look beautiful if you are aspiring to become a foot model.
3. Take Photos of Your Own Feet
It's the model's job to keep their photos organized, just like actors do with their headshots. They are your calling card, so invest in quality shots by hiring a professional photographer–preferably one with experience with feet. 
The average professional photographer charges between 75 and $250 for each image. Although it may seem expensive, it is worth the money to hire a photographer. 
They have high-end equipment and are familiar with how to best showcase your assets. Try different poses and lighting, but avoid over-retouching.
Even if your business is just parts modeling, include a picture of yourself in any portfolio. Be aware of the digital impact you leave. 
Make sure that the photos of your appendages are professional and meet industry standards if you plan to include them on your website. 
Some models include simple demonstration reels that show how the feet move.
4. Promoting Yourself
If nobody sees your feet or gams, it's not worth having them. After you've built up a solid portfolio, shamelessly promote yourself on social media or feet pics websites. 
FeetFinder is an online platform that connects foot model enthusiasts with innovative foot models.
It creates an artistic, vibrant community where mutual respect and admiration are valued. The platform is open to all, including budding models as well as enthusiasts who are interested in the beauty of feet.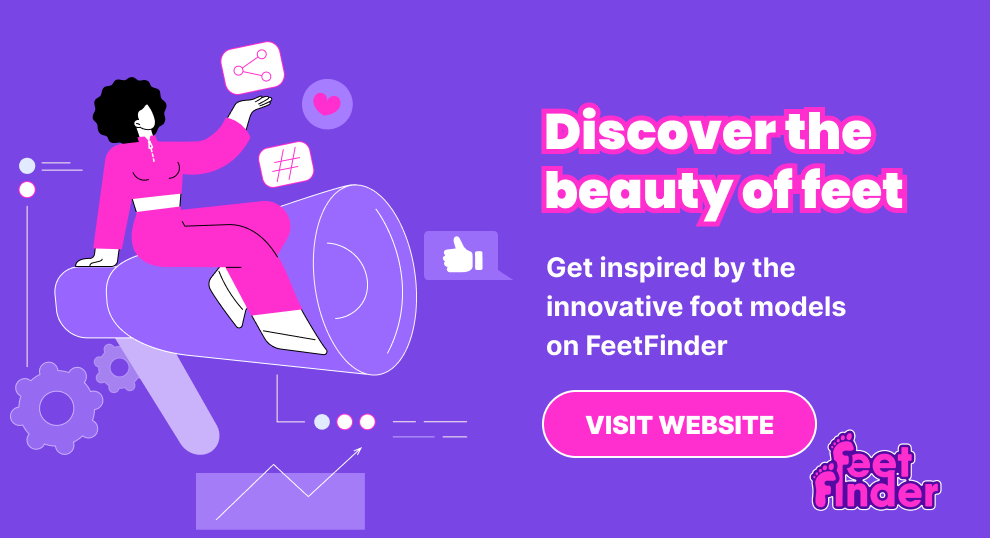 FeetFinder offers foot models a rare opportunity to showcase their feet from an artistic point of view, outside the traditional perceptions about beauty.
Models can capture an audience with captivating photographs and profiles that will appreciate the beauty and elegance of their feet.
The platform allows them to connect with their fans and followers, earn money, and express their passion for modeling feet.
Foot enthusiasts will be able to immerse themselves in a world of beauty and aesthetics. Foot models can be arranged differently so enthusiasts are able to choose and learn more about their favorite foot model.
The app creates a bond of love and friendship between users.
FeetFinder is a user-friendly app that makes it easy for you to navigate.
Data-backed insights illuminate the fascinating world of FeetFinder earnings. It allows models to discover all of the options.
However, it is always a good idea to post on other platforms. Promote yourself on your personal website or to people you know who are involved in the parts modelling industry. 
Create a buzz around your lower extremities and use this social capital to advance your career.
5. Apply in Agencies
There are many modeling agencies across the country that are looking to find talent. The two largest are Parts Models located in New York City, and Body Parts models located in Los Angeles. 
Models in their early careers can work with several agencies to build relationships and start working with agents. 
Don't hesitate to share your resume and portfolio, attend Go-Sees, or do a lot of research. For inspiration, browse Backstage's model listings. You can do it.
6. Get Pedicures Prior to Shootings
You probably already know how to make your toes look their best if you are interested in modeling. 
Visit a pedicurist you trust before meeting with agencies for go-sees, or going in for a photo shoot. Choose a polish color that you love and makes you confident.
7. Exercise Tenacity
Stay focused in your pursuit of a career as a professional foot model. It's an industry that is highly competitive, and you won't be successful by putting up your feet and waiting for success to come. 
Keep at it and be patient!
What Makes a Good Foot Model?
In order to do their job well, professional foot models need the following if she want to become a foot model:
Lovely feet: Most models of feet are tall, with slender, slender toes and a high arch. On their feet as on their other (usually long and graceful) legs, their skin is smooth with a clean complexion. Doing a search on the internet for how model feet look will help you get an idea of their general appearance. Unfortunately, you will not be considered for a career in foot modeling if the soles of your feet have marks, blemishes,or varicose vessels.
Patience: Although being paid to dress in Jimmy Choos and appear on camera might sound like a glamorous job, it is possible that you may find your patience tested during long-term shoots. Brands often want to create the perfect video or image that matches their unique aesthetic. So you may find yourself taking what seems like the same shot for an entire afternoon.
Flexibility: The attribute of flexibility can be important for both the body and spirit. The ability to adapt and be flexible will allow you (literally) and metaphorically, get the job. Physical flexibility is also important for models who may have to bend their feet in strange ways to achieve the desired shot.
Diversity: Buyers will continue to book your services for a variety of different shootings, if they like the way you look. Modeling snow boots in a snowstorm is just as easy as modeling delicate toe rings. It's possible to secure certain gigs by having unique feet. Body Parts Models includes a section called " Adult Children-Size feet". Finding your niche means becoming the right models to make money on FeetFinder.
Note – If you want to become a foot model and make extra income, FeetFinder gives the opportunity to buy and sell feet pics safely. FeetFinder has a huge community of buyers and sellers. Foot models can sell feet pics without getting scammed on this platform. 
How Much Do Foot Models Make?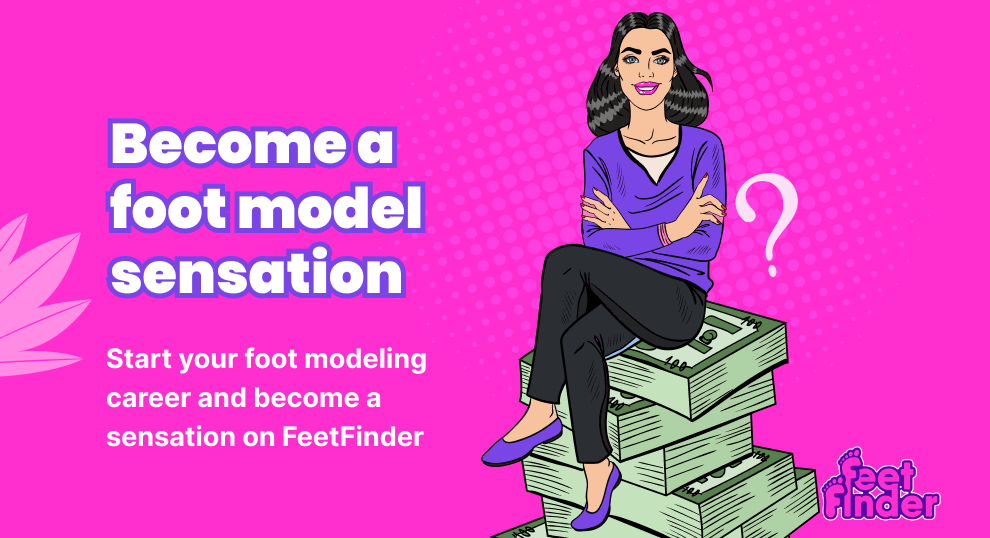 The foot model's salary can be very different from other modeling. ZipRecruiter states that the average national foot model salary ranges between $20,000 and $113,500.
Commercial modeling can pay from $25 up to $175 per annum, while modeling for pharmaceuticals pays much more. You can negotiate overtime pay, a bonus over $1,000 and even a location bonus, depending upon the type of ad and how long it runs. Agents and model management firms usually receive a 20% fee.
If you'd like to go direct, you are able to set the cost per image. According to research, the cost of custom order feet pics ranges between $5-$100. Special requests can be charged extra, including outfits or poses. So your doubt is clear: how much do sell feet pics sell for?

Join the FeetFinder today and start your selling feet pics to make passive income.