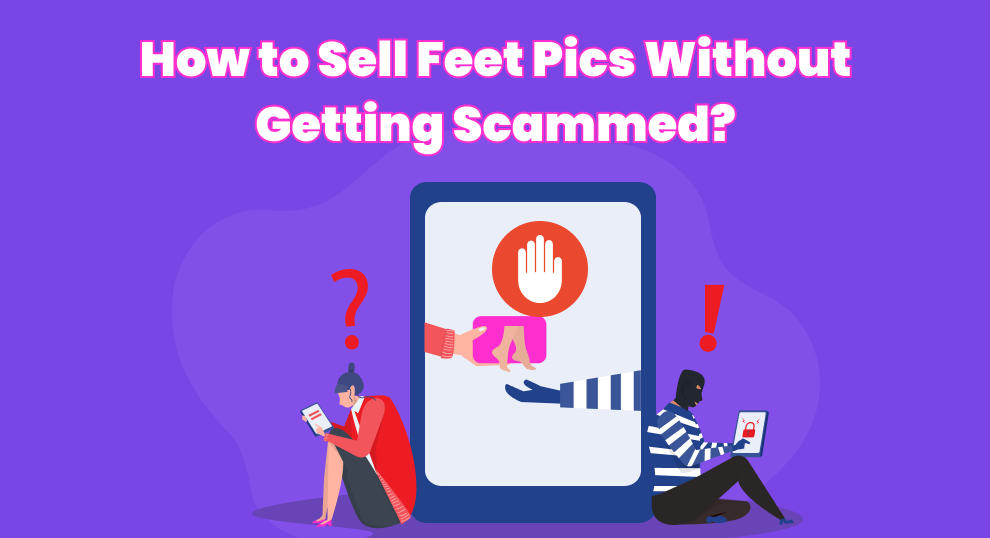 Are you attracted by the prospect of generating money via the sale of foot-related media? 
While there is the potential for financial reward, there is also some danger involved. 
Sadly, some people in this industry have run into issues, such as having their photographs stolen or not being compensated fairly. 
Protect yourself from these kinds of problems by learning how to spot and avoid fraudsters and by using trustworthy venues for selling feet pics. 
This all-inclusive manual provides clear instructions for choosing the most trustworthy platforms to sell feet pics and videos without risk of exploitation.
Have you ever heard of photographs of feet being sold on the internet? 
In a word, YES.
Contrary to popular belief, some people really do rather well by selling photographs of their feet online.
With the proliferation of social media and feet pics sites, capitalising on your individuality has never been easier.
However, con artists and fraudsters lurk around every corner of the web, ready to take advantage of unsuspecting buyers and sellers.
In this article, we'll explain how to sell feet pics without getting scammed and recommend the best place to do it.
Most Essential Insights to Sell Feet Pics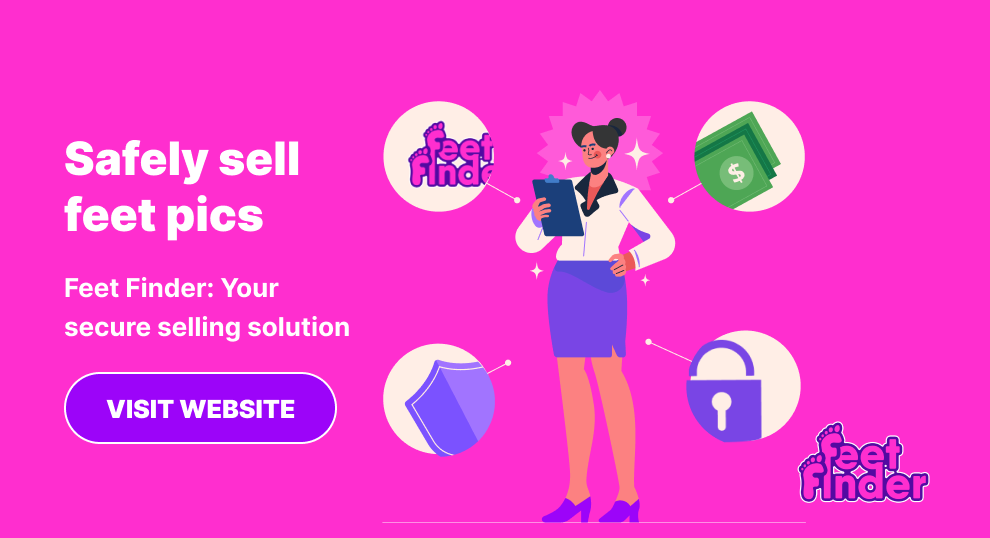 Use Trustworthy Site:

You should only ever sell feet pics on reputable sites like

Feet Finder. Verify the authenticity of the site by reading through customer reviews, star ratings, and platform testimonies.


Collect Money Before Anything Else: Never show a customer your feet before getting paid. Be wary about and avoid accepting overpayments. They could be a fraud!


Hide Your Tracks: Use a pen name and a disposable email for feet pics sales to avoid detection. To protect your anonymity, stay away from photos where your face is clearly visible.


Limit Yourself: Create and adhere to a strict set of guidelines for your company. Never send clients inappropriate photos or videos, and never blur professional boundaries.


Maintain Curiosity and Confidence:

Keep up with the most recent frauds that might be encountered online. If anything doesn't seem right about a potential customer or transaction, it probably isn't.
How to Sell Feet Pics Without Getting Scammed (Proven Tips)
One of the most profitable trends right now is selling photos of one's feet online.
The question is how to do so while feeling secure and compensated fairly for all of your work.
Read on to find out how to sell feet pics without getting scammed:
1. Choose The Best Feet Pic Site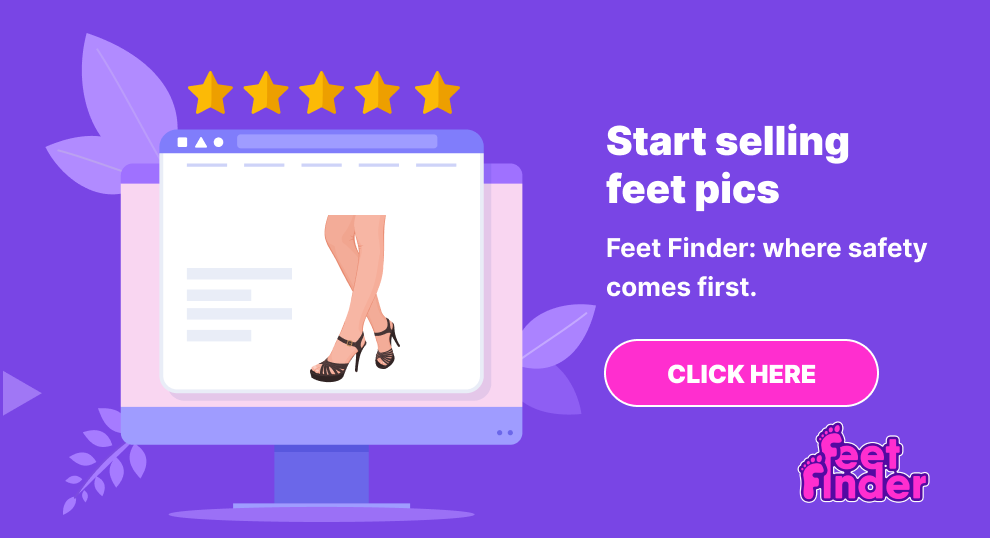 When you choose the proper marketplace, you may profit from selling foot photos without having to worry about being cheated. 
There are several places online and in applications where you may buy pictures of people's feet.
Feet pic sites are among the most trustworthy venues for selling such images. You may use those websites as a marketplace to sell feet pics online and make millions.
Feet Finder is a good example of a reliable and trustworthy feet pic site that doesn't abuse producers.
To further ensure the safety of its users, Feet Finder conducts identity verifications on both buyers and sellers.
And if a buyer is reported for unethical behavior, like trying to swindle the seller, their account will be deleted.
Plus, Feet Finder takes care of all the money matters on your behalf.
You can reach more people and feel safe about both your financial transactions and the privacy of your personal information. 
Customers won't get their material unless they make a purchase.
2. Open A Business Payment Account
A simple payment system is essential when selling pictures of people's feet online. Establish a unique company account on a service like PayPal.
Your business's earnings and expenditures can be kept apart from your personal funds in a dedicated checking or savings account.
Having a business account that has been verified adds credibility and shows customers that you mean business.
3. Don't Bargain
Scammers frequently leverage the promise of future business in exchange for an immediate "sample," but after they have your payment, they disappear like a magic trick.
In that case, what measures may be taken to prevent it?
Simple! You've decided there will be no discounting, bartering, or haggling of any kind.
Set a price you're comfortable with that you think accurately reflects the value of your job. Make it very clear on your profile, and don't make any exceptions!
We can assure you that many customers will be glad to pay the full asking price for your photographs.
Customers who try to negotiate a lower price likely seek further discounts or freebies. While this is not always indicative of fraud, it is generally a warning indicator.
4. Watermark Photos
Watermarking your images is another crucial step to sell feet pics without getting scammed.
Some sites obscure your images or provide brief video clips so that customers may evaluate your work before making a purchase.
A watermark, however, is the best defense against piracy and resale.
Pictures may be further safeguarded by adding a watermark, which displays your logo or company name on the surface of the image.
This will ensure that if the photos are leaked or disseminated without your knowledge, the proper credit is given to you.
When selling feet photos, it's best to avoid using watermarks that can be edited off and to place any watermarks you do use wherever they won't detract from or damage the image.
5. Don't Reveal Your Identity; Hide Your Face
Your feet, not your face, should be the focal point of any photos you intend to sell. So why would you want to put your face on images you're selling online?
It is the most important tip for how to sell feet pics without getting scammed.
If you wouldn't feel comfortable giving a stranger your home address, then you probably shouldn't show your face or other identifying information either.
If you want to keep your identity a secret, you need to eliminate any identifiers that could be present.

If a tattoo or distinguishing birthmark appears in a photo of your feet, don't be shy about using the crop tool to remove it so you may continue selling anonymous photos of your feet.
And much like those hagglers, if a buyer appears who demands to see a photo of you, consider it a warning sign and go on to the next potential buyer.
6. Use Secure Internet
You might think of a safe internet connection as the key to your digital door. It's the first line of protection against those who don't ask to see your photos but could be tempted to by their beauty.
Therefore, it is crucial to use a secret, encrypted connection to ensure the safety of your commercial transactions.
We understand the allure of using a public or unprotected Wi-Fi connection. Everyone appreciates a free internet connection, Right?
But let's be honest, social networks may be as public as a city park, and you probably don't want random people browsing through your foot photo gallery.
Scammers should have no access to your personal information, photos, or financials stored on your mobile device or computer.
Protect yourself by only connecting to secure Wi-Fi networks. Also, make sure you have the most up-to-date antivirus program installed on your computer for selling feet pics without getting scammed.
Always remember to log out of your account while using a public Wi-Fi or other insecure internet connection, and never save your passwords in an encrypted form online.
It's a baby step, but it may be the one that keeps your business safe and the one that lets the bad guys in.
After all, you should always prioritize safety and security while selling feet pics to avoid being cheated.
7. Send Photos After Payment
If you want to avoid being scammed while selling feet pics for money, being paid first is a crucial tip for how to sell feet pics without getting scammed.
Someone is really interested in purchasing the great feet pictures you have for sale. But if you don't have any cash, you can't post pictures of your feet.
Before you send out any photos, you should always make sure you've received money.
After the funds have been transferred, the agreed upon images can be sent over encrypted messaging.
Now, you may come across some people that offer payment upon receipt of the photographs. But we are here to tell you that the flag is red and waving in the wind.
Sites like Feet Finder employ encrypted payment processing to keep you safe as a vendor, and most selling platforms require payment before releasing any photos.
8. Use A VPN
Selling feet pics online requires a high level of discretion, so you may want to look into using a virtual private network (VPN). 
Virtual Private Networks (VPNs) are akin to having an online invisibility cloak. Your data is encrypted and transmitted over a private channel.
A virtual private network (VPN) may make your web browsing as discreet as whispering in the wind.
Exactly what is a Virtual Private Network, then? Data is encrypted and your online footprint is minimized, making it similar to a hidden tunnel.
NordVPN is frequently ranked as the best VPN service overall. Similar to the elite portion of virtual private networks.
Whenever and wherever you need it, NordVPN provides you with private and secure access to the web. 
Don't overlook this tip, if you are seriously leaning on how to sell feet pics without getting scammed.
9. Don't Take Gift Cards
Unfortunately, gift cards have become a common tactic used by fraudsters who want to steal your images but don't want to really pay you for them.
They ask for photos, propose a gift card as payment, and then disappear as quickly as a shooting star after you deliver them, or the card doesn't go through.
You might be wondering why gift cards are so popular with them. They can have no money at all and are famously difficult to trace.
Let's imagine, though, that the convenience of gift cards has you thinking about adding them as a payment option. You may test the gift card before submitting any pictures to make sure it is valid.
Traditional payment methods like PayPal, Venmo, or bank transfers are preferable than gift cards since gift cards frequently have no funds left on them.
10. Avoid Pay Scams
We'd like to warn you about an unforeseen risk you face while selling feet pics online: digital criminals trying to pull a quick one by providing you with bogus payment images.
They display this impressive screenshot of a 'payment' they supposedly' earned for your foot photos.
However, did you happen to guess what? It may be an illusion! Even if a snapshot indicates that payment has been sent, it doesn't always imply it has.
This deceptive practice involves digitally altering an image to make it look like a fraudulent transaction or that you did anything wrong on your end.
Here's how to avoid being tricked by this tactic in the future. Never take anyone else's word for it that money has been deposited into your account; you know things aren't exactly as they say they are.
The numbers in your bank account don't fib. Don't bother sending those images if you haven't been paid yet.
Make sure the money is actually in the bank before you release the images.
11. Don't Overpay
Let's take a look at the age-old adage that "if it's too good to be true, it probably is." It's relevant to this guide on how to sell feet pics without getting scammed.
This is especially true when operating a foot photos company and having to cope with unexpectedly large payments or tips.
This is how most con artists operate: Someone sends you a payment or tip that's far higher than your asking price, and then they say they made a "mistake" and want you to return the difference.
Here's where the story thickens, though: their initial "payment" is frequently an elaborate hoax perpetrated via digital forgeries.
The money they give you might have been stolen from someone else's bank account or credit card, and if you refund it, the fraudster will get it instead of the rightful owner.
You'll be on the hook for all that money, not the scammer, when the victim discovers the unauthorized charges and has the bank reverse the bogus transaction.
Therefore, no refunds should be given under these conditions!
Top Rated Foot Pics Website (100 % Legit)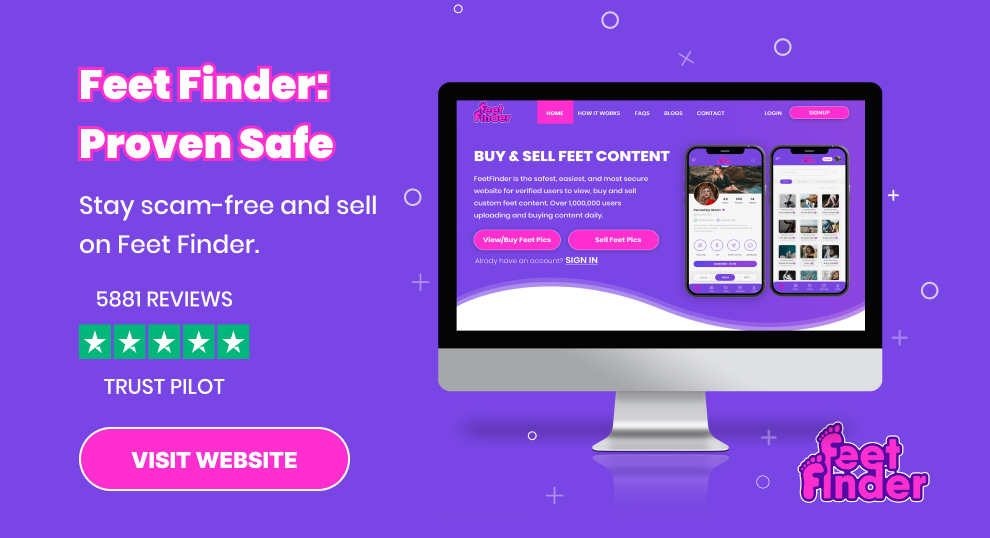 1. Feet Finder
One of the most popular places to buy feet pictures online is FeetFinder.
Feet Finder streamlines the selling process by providing a simple interface and quick enrollment for sellers like you.
Feet Finder's large and active community of foot photo aficionados is a major draw, but the site's user-friendliness and simplicity also make it simple to put foot-related items for sale.  
To sell your feet online, all you have to do is post photos to the website Feet Finder. For merchants seeking to reach specific customers, this is a perfect place.
FeetFinder is a membership service that charges a modest commission on each photo sold and a monthly fee to host your foot photos and videos.
But the costs of payment processing, security, and other features are covered by the fees.
You can focus on what you do best—taking good feet pics—while the platform takes care of the business end of things.
Are you curious to find out why we think Feet Finder is the best place to sell pictures of your feet.
Read the FeetFinder reviews to make surety.
Final Words
It may seem strange to get money by selling photos of your feet online, but this is really a rapidly expanding business.
But just like every money-maker online, individuals are out there ready to defraud you and either receive items for free or take your money!
If you want to generate consistent monthly income selling pictures of your feet, be sure to follow the advice above on how to sell feet pics without getting scammed.
Always take caution while selling toe photographs or feet photos online, and be sure to do it on a reputable site.
All of the sites are trustworthy places to sell photos of your feet. But FeetFinder is one of the top among others.
Joining Feet Finder is a no-brainer if you want to avoid scams and join a secure service that handles payments for you.