August 23, 2023

Amit biwaal

0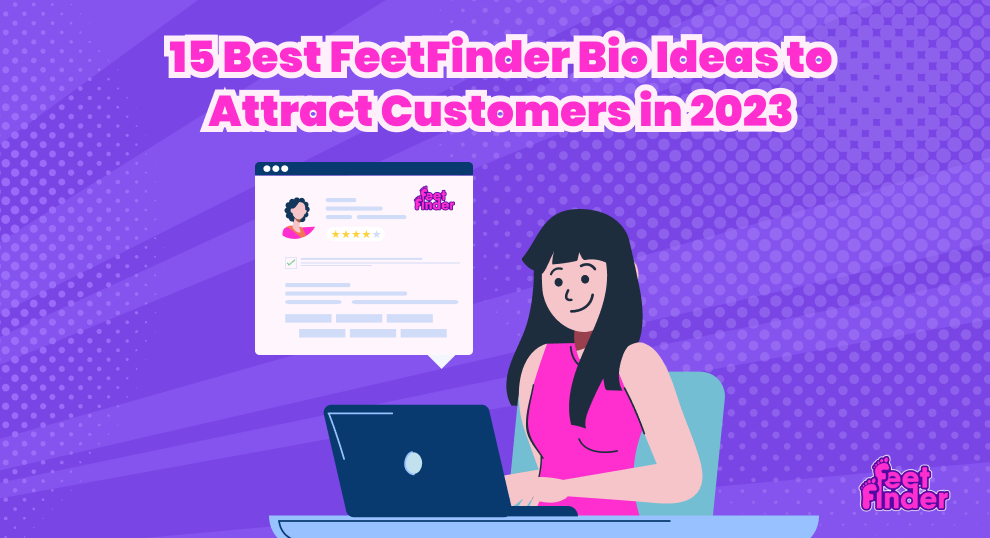 Today, selling feet photos is more popular than ever. This high-income side business allows people to earn thousands of dollars legally. To support these sellers, there are many apps and websites that allow you to legally sell feet pics for money.
FeetFinder has been used by many people to sell photos of their feet online. This is an online marketplace for foot photos and other related products. It is safe for sellers of feet pics as it is against pornography and nudity. You can sell your photos on FeetFinder if you don't want to feel uncomfortable selling them on OnlyFans or Twitter and so on. This site has limited nudity restrictions.
It is easy to sell feet pics on FeetFinder. You only need to provide your information, set up an account, and create a Profile. Selling feet photos on FeetFinder is so easy that anyone over 18 who understands business and is comfortable with the process can do it.
How can you stand out from the crowd to sell your photos of feet on FeetFinder and make money?
Here is where your FeetFinder bio ideas can help you. What is a Feetfinder Bio and how will it make you stand out in the sea of foot pic sellers? In this article, we will discuss FeetFinder bio ideas for making your profile more clickable.
What is a FeetFinder Bio?
The FeetFinder bio is an introduction to you and your services on the platform. This FeetFinder bio describes who you are as a seller and what to expect from you. FeetFinder's bio summarizes your entire profile in just two to three short sentences. This is crucial to making a great impression on your potential buyers.
Why is It Important to Have a Strong FeetFinder Bio?
FeetFinder Bio is where potential buyers will look first when visiting the platform in order to purchase feet photos. It is also your greatest opportunity to impress the potential buyer and convince them to buy feet photos from you. Your FeetFinder bio gives buyers an insight into the type of photos you offer and if they will be able to fulfill their fantasies. This is a great way to advertise yourself and build a client base in the community of feet lovers. It is important that you create a great bio to use on your FeetFinder page.
15 Best FeetFinder Bio Ideas To Increase Visibility (Try Now)
Selling feet photos is an excellent side business. You can make thousands through this. You can earn thousands of dollars by selling feet pictures in America. To do this, you need to stand out from other sellers with the most impressive FeetFinder Bio. We have compiled a list of FeetFinder Bio Ideas to assist you in creating an appealing FeetFinder Bio.
1. Maintain Simplicity
It is important to write your FeetFinder profile in a simple and straightforward manner. Take a look at the FeetFinder profiles, in which the sellers are very straightforward and clearly explain what the buyer can expect. There's nothing complicated about the profile. Anyone can easily grasp what the seller wants to say. Must try this FeetFinder bio idea in your profile
2. Keep The Right Tone
You are just as good as any salesperson in the real world if you sell feet pictures on FeetFinder. You must therefore use the correct tone when writing your biography. If you sound harsh or unprofessional, your customers might leave your profile. Follow the examples on FeetFinder on how to talk to customers with a friendly tone.
3. Be Funny
Humor can be a very effective tool in gaining the hearts of others. The use of humor can make your FeetFinder bio more appealing to buyers. See the FeetFinder bio examples on the platform that might be used to inspire your own.
4. Be Real
Before writing your FeetFinder Bio, you should consider this idea. You should always be honest about your identity rather than trying to fake it in your bio. This could lead you into making errors that may cost you your business. You will build up trust and market value with your buyers as you become a FeetFinder seller.
5. Describe as Much as Possible
In your profile bio, make sure you include a detailed description of you. By doing so you will attract more potential customers. You may find it difficult to fit all the small details into two or three sentences.
6. Assure Buyers You're Flexible With Requests
You can also increase your buyer's popularity by telling them that it is flexible when it comes to custom orders. Tell them that, for a little extra cash, you are willing to go the extra mile (within the comfort of your own home). 
7. Show Your Sexiness
FeetFinder has buyers who are looking for foot pictures with a certain kinkiness. They will pay a lot of money in order to satisfy their desire. If you think you could satisfy this kinkiness in a way that would attract buyers, mention it in the bio of your profile to get the attention of people.
8. Be Straightforward
As you know well, there are several pros and cons of selling feet pics. One of them is being scammed. You can use your bio to send direct messages and avoid scammers. Use the correct tone, even if you are being direct.
9. Show Your Raunchiness
You can attract buyers by being raunchy. People often purchase feet pictures to satisfy their foot fetishes, as feet picture selling is close to the adult industry. You can then target these buyers through your biography by showing your more raunchy side. In your bio, you can be sensual or dirty to attract buyers.
10. Share Your Customer Reviews in FeetFinder Bio
It can be a good way to advertise your profile by highlighting the great FeetFinder reviews that you have received from past customers. By doing so, you will be able to convince customers that you are the only person who can sell them feet photos. Encourage your customers to check out the testimonials section of FeetFinder to find out more about what they think.
11. Link to Your Websites or Social Media Accounts
It is recommended that you should include links to your website and other platforms in the FeetFinder bio. You will then be able to increase traffic to these particular profiles or websites, and buyers will have the ability to verify your credibility. 
12. Toying With Words
Many people appreciate when your FeetFinder bio uses intelligent language, as in the case of the student who figuratively refers to showing stars in her bio. A physics student, who is interested in the universe and galaxies, used this to her advantage. She told her buyers that they'd be delighted if she sold them attractively styled feet pictures.
13. Do Not Be Afraid to Have Dirty Feet
Some buyers prefer dirty feet photos. As a seller, you shouldn't be afraid to sell dirty foot fetish pics in your profile or mention them within your bio. The dirty feet photos can include, but not be limited to, feet with soil, sand, or sweat, feet wearing dirty socks, and feet that are covered in mud.
14. Include Keywords in Your FeetFinder Bio
There are two ways in which having relevant keywords in your FeetFinder bio can benefit you. First, it tells potential customers exactly what to expect from you as a seller. The second benefit is increased visibility in web searches.
15. Briefly Use Hashtags
You can also use this to improve your visibility in the search results. For instance, those that sell feet pics on Twitter, Facebook, Reddit, and so on use hashtags in their bios and posts. It helps to increase visibility. You can use hashtags on your FeetFinder profile and tweets to attract potential buyers.
Final Thoughts
FeetFinder offers a great platform for selling feet photos online. It is safe to say that you will be able to easily sell your photos on this platform, as it's a marketplace dedicated for feet pictures and other related products. FeetFinder is a great place to sell feet pics, but with the increasing competition it can be difficult.
A good FeetFinder bio can help you save money. By using the FeetFinder bio ideas above to write your own bio, you will be able to stand out from the crowd, and earn thousands while selling foot pics.
This article on the best FeetFinder Bio Ideas will hopefully help you to create some great bios for FeetFinder and succeed with your feet picture selling business.