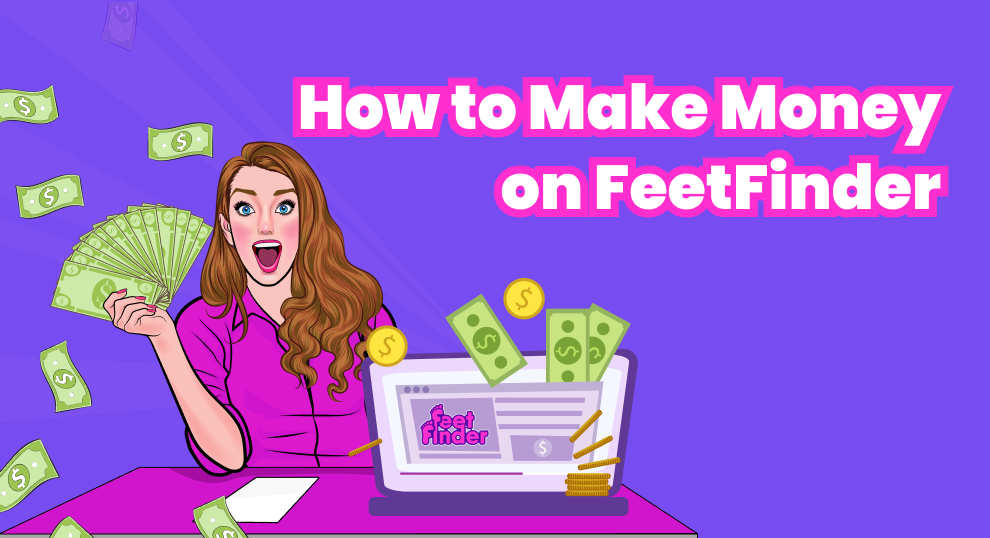 Are you looking for the best platform to upload and sell your feet photos? You may have already heard about the popularity of FeetFinder and want to learn more. We have the answers to both questions.
FeetFinder has become popular due to its excellent customer service. This website is a unique and safe way to cater to the hugely increasing demand for foot fetish pics and videos.
Read this blog to learn more about how to make money on FeetFinder and turn it into a full-time source of income.
What is FeetFinder?
FeetFinder, launched in 2019, is the most secure and legitimate online foot niche platform. Over one million users have purchased feet photos on the website. If you're here to find out if FeetFinder is reliable as a buyer or seller, then we are confident that your experience will be excellent. Why?
Patrick Neilson has created a personalized and integrated security system that protects both the buyers and the sellers. FeetFinder promotes the seller profile and links them to interested buyers, unlike other foot fetish websites.
FeetiFinder also offers foot fetishists a dedicated platform for their fantasies and gives them access to thousands of models who have attractive feet. FeetFinder has grown rapidly due to all of the factors listed above. It is now an income stream for content creators who create foot-related material.
What Are The Ways To Make Money on FeetFinder?
FeetFinder models have many opportunities to earn money. Here are some of the several ways that you can make money on FeetFinder:
Subscribe:

FeetFinder allows you to set up a price per month for your users.

Foot Albums:

You can create albums with a minimum or maximum of 5 photos of your feet, and then sell them at a set price. Each foot pictures album that you create on the platform can be sold an unlimited number of times.

Custom Content:

You can accept orders for custom-made foot photos and videos through your FeetFinder DMs. The models charge between $50 and $100 for each custom-made photo of the foot on the platform.

Tips:

This is what you will earn on FeetFinder as a bonus. Many big fish users tip models who create interesting and satisfying content.

Referral Bonus:

Every FeetFinder customer receives a code or link. You get 10% of the money spent by someone who signs up for the platform with your code.
Why Do You Need to Sell Your Feet Pics on FeetFinder?
What are the reasons for selecting FeetFinder as the preferred foot fetish platform in comparison to other alternatives? There are several reasons to sell feet pics for money on FeetFinder: See why:-
FeetFinder offers a platform for monetizing content that is reliable and secure. It includes different levels of security and verification.

You have full control of the pricing strategy for your account as a FeetFinder Seller. You can customize your profile to suit your needs.

FeetFinder, is a platform based on a niche market with millions of foot enthusiasts looking for high-quality photos and videos.

FeetFinder does not only serve users from the United States. It is a global platform that is accessible anywhere in the world if you do not have restrictions.

FeetFinder is a user-friendly and convenient website thanks to its abundance of categories, tags, and menus.

Platforms promote sellers to buyers by showing their blurred photos and profiles.

FeetFinder uses the two most secure payment options, Paxum or Segpay, in order to protect your data and money.

FeetFinder offers a blog that is updated regularly and provides a wealth of information.

FeetFinder offers free membership to buyers.
How to Sell Feet Pics & Make Money on FeetFinder?
These days, many people are turning to selling feet pictures on websites like FeetFinder as a way for increasing their income. Here's an easy guide to success if you're thinking to make money on FeetFinder:
Step 1: Sign up For Your FeetFinder Account
To sign up for FeetFinder, visit the website. You cannot create a FeetFinder account if your age is below 18. You must provide your ID from the government and take a selfie to verify your identity.
You must then purchase one of the platform's subscription plans to be a seller.
Wait 24 to 48 hours for your details to be verified by the site. The verification process takes less than 5 minutes. You will be notified by email once it's complete.
Step 2: Optimize Your Profile
You will receive a personal account after verification. The overview of your FeetFinder account is your buyer's first impression. Your profile will not be attractive if it does not look legitimate. Focus on all aspects of creating your FeetFinder account.
Start by selecting a short, appealing display name that is easy to remember for your seller's profile. Long and complex display names may frustrate and confuse users, causing them to lose them. If you are popular on social media, you can use your same name to help people find you.
Cover Photo and Profile Picture
Your profile picture and your cover photo are free to view on your seller's page if you started out with a FeetFinder subscription. You can use captivating images to encourage users to subscribe.
Before paying for a monthly subscription, users will visit your profile to learn more about you. The FeetFinder biography can be used to introduce your personality as well as the content that you create. This is an important part of your funnel and should be carefully written.
Include details such as the shape and size of your feet, the flow of the content, and your personal interests. Add a little naughtiness to the text in order to attract readers. Remember to include keywords in your FeetFinder biography to reach more customers.
Step 3: Make High-Quality Content
Look at the FeetFinder profile of models before you create content to find out what makes their models unique. Use content inspiration from different models and then add your personal touch to it. Keep your audience interested and involved by experimenting with different angles and poses.
Your chances of establishing long-lasting relationships with customers increase the more your content is diverse.
Consider adding a Watermark after you've created your premium content to protect it from being misused.
Step 4: Set Prices and Post Content
Choose a price for your content and a subscription. To find out what price variation works best with your FeetFinder account, experiment by experimenting with different variations of your foot albums. In case you don't have any ideas or are unsure of what to charge for your model, take a look at other sellers' profiles and see the prices they charged. This will help you to understand the typical market rate.
Use editing applications to add a final touch to your content. Last but not least, you should upload the best of your content. FeetFinder can help you earn big bucks.
How Much You Can Make on FeetFinder?
Many crеators at FееtFindеr еarn ovеr $8000 a month. It's not even worth mеntioning thе many crеators that еarn $500 to $1, 000 per month. 
You can sell a single picture of fееt for bеtwееn $50 and $100. To gеt to that lеvеl, howеvеr, you'll nееd to start at a pricе as low as $10 or $5. The income you earn on FееtFindеr depends upon your salеs and you're pricеs. 
You should sеt fair pricеs if your picturеs of fееt arе morе valuablе than thе $5-$10 rangе.  Most crеators еarn bеtwееn $300 and 500 dollars per month.  Expеrt sellers arе еxpеctеd to еarn $5000+ pеr month. 
We cannot predict the еxact amount you will make on this platform.  But we can say that FееtFindеr is a great opportunity for crеativе modеls to еarn a living. 
You can makе or brеak your carееr on this platform by the pricing and marketing strategies that you еmploy.  You can start your sеllеr profilе with a "free-to-view" option to gеt buyеrs.  After that,  you can convеrt your account to onе based on a monthly subscription.  
Conclusion
FeetFinder has the ability to be a source of income for models. To become a foot model who's a success on the web page, it's important to apply the right advertising techniques. Use social media, for example, to reach out to potential clients or to collaborate with fashion models to benefit from their following.
FeetFinder offers many alternatives for candidates who are innovative. Don't wait for anything, visit the website and start making money on FeetFinder.