October 13, 2023

Amit biwaal

0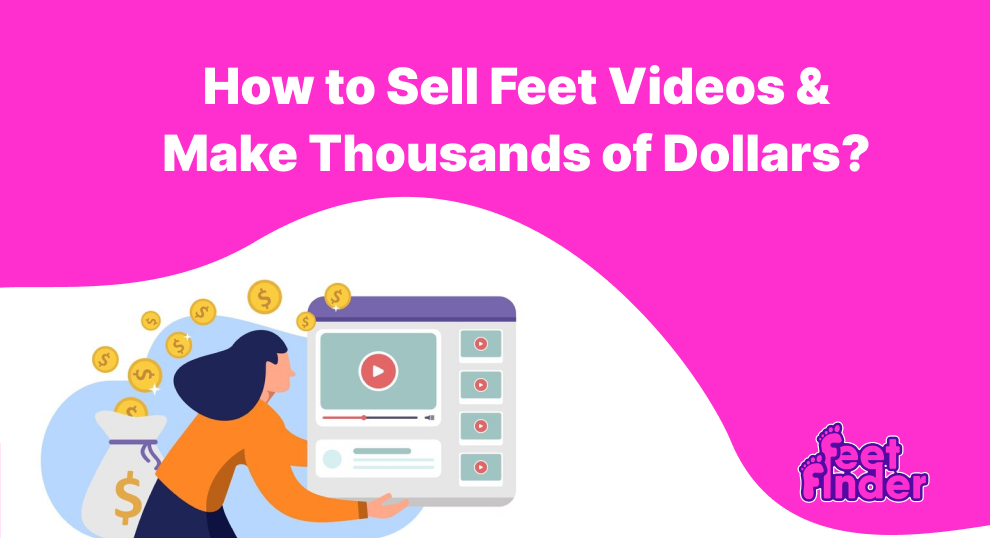 Curious about how to sell feet videos? You're not alone! You're not alone! The current age of the internet has made it acceptable that there are unconventional ways of earning money. And guess what? This is absolutely a trend you can cash in on.
So, let's get right to the point: Sell feet videos and get some money. It is not just about making footage of your feet and selling it. It's a wholesome process, from knowing your audience to choosing a video platform. The good thing is you do not have to be a Hollywood director for it to happen.
You can take sexy feet pics with a good camera and a proper angle. This guide will show you the dos and don'ts to sell feet videos like a pro. Stay tuned!
Tips to Sell Feet Videos
Want to get your foot in the door of the feet video market? You're in the right place! Let's unpack these tips to sell feet videos like a pro. Toe-to-toe, we cover you from perfecting your profile to mastering your niche. Therefore, with this in mind, let's go in and make that feat your next income source.
1. Build a Profile That Grabs Eyes
There are thousands of sellers in the market for which competition is fierce. To sell feet videos, you need a profile that grabs the viewers' attention as soon as they access the market. First, you can create an unforgettable and aptly named username to match your persona. Choose a playful one such as "MysteriousMila" or an obvious one such as "SophiesFeet." Make it catchy but easy to remember and type. A first step, which is a unique username, can be your key to the feet video market that opens up for an easy journey.
Don't cheat on your profile picture. First impressions can be made or broken in a quality snapshot. Select a high-resolution, well-lit, and focused photo. With the feet specialization, you may even take a creative photo of your feet, using it as a profile picture. By proving your ability to capture quality photography, you show your ability to sell feet videos and set an average price of feet pics that you can charge.
Your profile image is essentially your storefront window. If it captivates the potential buyer's attention, you're already halfway to closing the deal. So, invest some time and maybe even a little money into making it as professional and engaging as possible. It's the first thing people will see, and a compelling profile picture could turn casual browsers into repeat customers.
2. Craft a Bio That Connects
FeetFinder, for instance, requires you to write a short bio to get buyers on FeetFinder. This is the time to connect with your audience in a more personalized manner. Do you have any interests in common with feet? Beach walks or yoga might align well since they involve feet. You could add such fun facts as how you paint the toenails different colors each week, making your profile much more relatable and memorable.
Discuss what buyers should anticipate from your content. Are you into high-res beach feet videos or artistic black-and-white shots? Giving an insight into your unique style in feet videos allows you to sell feet videos and inform potential customers of the worth they will receive from you.
But, refrain from oversharing; do not share personal information like where you live or your legal name. Never risk inviting interest with your bio. If you have different feet videos, your well-crafted bio can be the hook that converts those who just browse to those who buy. Do this, and watch your customer population increase!
3. Pick Your Foot Specialty
It's like being a tiny fish in a big pond when entering the world of selling videos of feet. Given the number of platform sellers, standing out is hardly easy. The latter can benefit from picking a specific foot niche. You might specialize in videos featuring worn-out boots or even sandy beach feet.
You can direct your creative energy to creating excellent content in the chosen style or theme in one specific area. It makes you avoid feelings of being scattered and overwhelmed. And, when you are the person to go for certain content, you will most likely experience a boost in sales and positive FeetFinder reviews.
Think of it this way: Master of one rather than a jack-of-all-trades and master of none. This way, you will sell feet videos more effectively and establish a name for yourself in that niche. After that, you may think of branching into other areas. Therefore, identify your niche, make it unique, and enjoy the growth of your business!
4. Invest in a Good Camera and Play with Lighting
You will miss a lot of potential if you think you can just take a snapshot of your feet and go. In other words, it is about paying attention to details when you want to sell feet pics for money. Many smartphones today have great cameras that can take amazing high-res photos, so there is no need to buy an expensive one.
Nevertheless, if you are serious about this and want to take the traditional route, use a DSLR camera. You may use features like autofocus; saving hundreds of pics and transmitting them to a PC is easy. However, only this is the beginning.
It's all in lighting. Lighting can make or break your photo. Experiment with different angles—not just the typical top-down shots. Consider taking ground-level photos or including other leg parts like your ankles or calves. Play with poses like curling your toes or changing how your feet are positioned. Snap a variety of shots and then sift through them to pick the best. Good lighting and composition not only help you sell feet videos, but can also boost your chances of gathering stellar reviews and higher prices for your work.
5. Be Smart About Lighting
Good lighting is your best friend if you want to sell feet videos and make money on FeetFinder. While natural light is fantastic, you're not limited to it. Feel free to experiment! Take some pictures outdoors in the sunshine or next to a window. Want to mix it up? Use a ring light or play with shadows to cast cool effects on your feet.
However, in this case, less is more. You could be tempted to use filters and editing apps, but most buyers love authenticity. Some touch-up here and there is okay, but keep the photos looking as real as possible. After all, your real feet are the stars of the show!
Perfect your lighting and take your foot content from 'meh' to 'wow' to attract more buyers and make more money on platforms like FeetFinder. Keep it natural, keep it real, and enjoy the sales.
6. Use Props
When you aim to sell feet videos or sell feet pics without getting scammed, sometimes a plain old foot picture just won't cut it. That's when props and accessories can add that extra 'oomph'. We're talking about shoes, jewelry, flowers, or even more adventurous items like ropes or handcuffs. But here's the key: these extras should make your feet the star, not steal the spotlight.
For example, if you've just had a pedicure, a pair of sandals can be the perfect frame for your freshly painted toes. High heels? They can make your calf muscles and arches look amazing. The idea is to know your strong points and use props to highlight them.
Keep in mind, your feet should always be the major focus. Select accessories that harmonize with them and make them appear glowing. This makes your content more inviting and enables you to sell without being a scam or being caught in a trap. Keep focus on your feet and watch the sales soar!
Conclusion
Thus, you have completed our guide on how to sell feet videos effectively. This is not a one-time thing, remember. That means working hard, from creating a profile to finding a distinctive angle. Great lighting and top-quality photos are more than just extras; they can give you the edge you need in a competitive market. Props and accessories? Consider them as secondary actors that put your feet into the spotlight. And let's mention several specialized profiles that can help you speak to more people and present yourself as a specialist in different fields.
Well, so go ahead, step forward with all your might, and become the first to put your foot into the sphere of feet video trading. You'll be stepping your way to success soon with focus and a bit of flair.